It's the little things that make a great vacation destination. Sure, Breckenridge has excellent dining options, tons of activities, and refreshing weather, just like the other mountain towns in Colorado. But what makes Breckenridge stand out from the rest? We at Beaver Run Resort rounded up some of our favorite "little things" about Breckenridge. Here are many reasons why Breckenridge is such a great place to visit in the summer.
Connection to the Mountains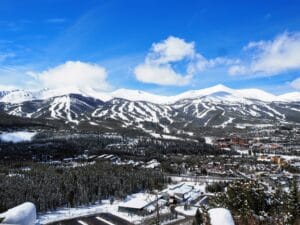 Breckenridge's elevation means the town is not tucked away in a valley. All around Breckenridge arise massive mountains with snowy caps and alpine tundra above deep green forests. Yet they seem so close you could touch them. One of our favorite ways to soak in the mountain views from downtown Breckenridge:  walk west on any of the streets that cross Main, we prefer Washington or Lincoln, and fall in love with the undulating Ten Mile Range above the skyline of historic Breckenridge. The mountain views of Peaks 9 and 10 from Beaver Run Resort are also breathtaking.
History
Breckenridge was founded the same year as the Pikes Peak or Bust Gold Rush in 1859. As the oldest town on Colorado's Western Slope, Breckenridge embodies the pioneer spirit that helped settle the west. Frontier architecture with false-fronted stores line Main Street. Many historic buildings are preserved in one of Colorado's largest historic districts. Throughout the backcountry, mining structures and abandoned equipment add interest to trails and dirt roads. Breckenridge History offers museums, tours, gold panning, and interpretive sites worthy of your time in our town.
It's a Town
Breckenridge is not a sprawling city with strip malls and fast-food joints lining the outskirts. It retains its small-town character with careful planning and development codes. The downtown area of historic Breckenridge remains walkable from end to end. Small parks dot the core with plenty of places to relax. Because of Breckenridge's intimate size, and thanks to the extensive network of free transportation, you don't need a car here.
Trails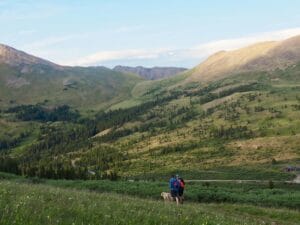 Miners and railroads left a legacy of trails and dirt roads throughout the Breckenridge area. A robust open space and trails program further enhances pathways with connectors and extensions, making Breckenridge very easy to explore. The paved Rec Path links all the towns in Summit County and even makes it over to Vail and Glenwood Canyon beyond. But our favorite thing is the smell of wild roses inhaled on an ambling walk along a shade-dappled trail lined with aspen trees and wild flowers. It's about as close to heaven as you can get.
The Blue River
A river runs through the middle of downtown Breckenridge, rushing in the spring, mellow in the summer. Kids play in the water at the Blue River Plaza. Farther from downtown, anglers try for trout, tubers float the ripples, and kayakers run the rapids.
We Love Dogs
Beaver Run Resort is dog-friendly like much of our town. Dogs live their best life in Breckenridge. From walks on soft-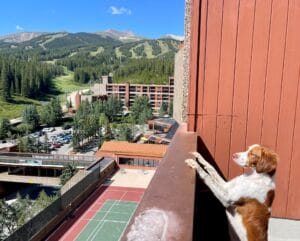 surface paths, to dips in the pond or creek, to hanging out on a patio or at the Broken Compass Brewery, your dog will have as much fun on your Breckenridge on vacation as you will.
A Sense of Community
Not only is Breckenridge one of Colorado's oldest towns, it retains that sense of community ownership and pride. Town government invests heavily in housing to ensure that a significant percentage of the work force lives in Breckenridge. Volunteering, philanthropy, and engagement define what it means to be a local. Businesses and individuals practice leadership in responsible stewardship of community resources. Our welcoming environment envelops visitors as well.
Dining Options Abound
From budget and family friendly to high-end, Breckenridge dining options offer something for everyone.  Several new upscale restaurants have opened in town the past few years, elevating the dining experience. Yet budget-friendly burgers, pizza, pho, pasta, tacos and other options still dominate the restaurant scene. Right here at Beaver Run Resort, Spencer's Steaks & Spirits offers a widely varied menu with plenty of choices for kids.  When out and about in Breckenridge, ask a local about their favorite place. You may learn about an option that hadn't occurred to you.
More Activities Than You Can Do in One Vacation
We've already mentioned some of our favorite things: hiking, biking, historic tours, hanging out downtown or by the Blue River, fishing, kayaking, inner-tubing, playing with your dog or petting other peoples' dogs.
Here are some other options for your Breckenridge summer vacation: horseback riding, golfing, white water rafting, jeep rides, dog-sled tours, mountain climbing, rock climbing, swimming, shopping, listening to live music, visiting the troll, Epic Discovery zip-lining, chairlift rides and coaster.
Beaver Run Resort is the Best Place to Stay in Breckenridge
You may think we are biased, and we are, but Beaver Run Resort is the best place to stay in Breckenridge for many reasons. We offer everything you need, from a variety of lodging styles, to pools, hot tubs, arcades, amenities, conference facilities, restaurants, and a small market. Our location is tough to beat: near town but not downtown, close to trails and the National Forest, on the ski slopes for winter visitors, and convenient to free public transportation. And did we mention that we allow dogs?
Come join us at Beaver Run Resort in Breckenridge and learn for yourself why Breckenridge is so great at any time of the year.